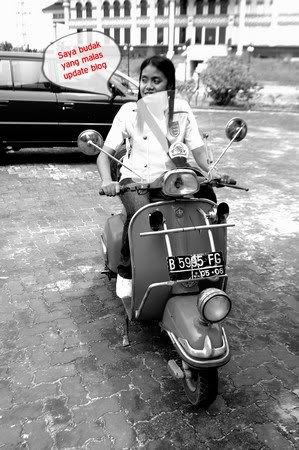 giler boring.. memg la best being a bridesmaid! tp sgt boring pasni xley kaco dier as my fren la!
eee boriing!! she made my day! always.. bile jmp ke borak phone ke..asyik ketawa je dengan die..
haa nnt da kawen of coz la pada2 kan? and xmo la kene marah dgn big bro - Fahd yg memg slalu mrh lian! isk isk =P hehe
kejap je time passed by.. dr she's getting engage, engaged, now getting married =( owh sudah tamat zaman bujangnye! boring nye!?!!!! mesti miss everytime die worried bout all this stuff.. how kitorg survey same2 all the wedding stuff.. zara always ask lian if she need any opinion before zara decide in anything..
knal zara xlame pn.. tah get to know her dlm chat je.. zara sgt best! senang borak dengan dier...
alaa tp die nak kawen! nape lian love her so much?? sbbb she begin my real life as teenager..
as org mude yg patot idup.. kalau xknal zara.. i wont stand on my own.. being a good and big girl enough!mesti melayan je perasaan.. 1st time jmp die even lian xsegan pon! gelak2... lepak ngan kawan2 lain.. zara g mane pn she never forgets me.. zara and fad dah mcm big bro wid big tummy =P and sis da....
owhh.. watching her on the day of solemnization nnt .. mesti lian ngs..
sbb loosing kawan bujang kakai gelak yg best! pasni zara no more bujang.. =((
cant wait to be the bridesmaid! nak wat the bigday the happiest day for her!!!
good luck dear zara!! uwaaaa sedey!!!!!
haaa sedey nyer!!! =((
nama dia zara
dia kakak saya
abg fahd abg saya
saya xde kakak or abang
diorangla paling best dlm hidup saya!
saya nak abg fahd happy kan kakak zara
and saya miss kakak zara
"the hardest thing in life is the things that u kept it in silence" - liyana